So, our best kept (kind of) secret is out – Stokes Bay has been named Australia's best beach. Out of all the amazing beaches in a country renowned for amazing beaches this is a real honour but no surprise to the locals.
It is now well known that one of the coolest things about Stokes Bay beach is that to reach its magical white sands you have to walk through a rock tunnel which takes you through the cliff. Yes, it is a great as it sounds. It also means that many people pull up in the car park, see an unremarkable rocky beach, turn around and leave! You need to walk about 50 metres to the tunnel entrance where the adventure begins.
1. Its the safest place to ocean swim on Kangaroo Island
If you are not a confident swimmer but want the experience of ocean swimming, the large naturally formed rockpool at the beginning of Stokes Bay beach is the best place to safely take a dip. Its shallow, protected from the waves and usually a few degrees warmer than the 'surf' as the locals call it outside. Its perfect for children to learn to swim and snorkel.
2. It has naturally occurring shady outcrops
We will often not take a shade to Stokes Bay as there is some great natural shade thrown by the rocky cliff and boulders on the beach. They also serve as places to hang wet towel and bathers.
3. It has great surf
Its not often that you get a super safe swimming beach coupled with a surf break. A great beach break for beginner surfers. Just note it quite squeezy getting a surfboard bigger than 6 foot through the tunnel. Bigger boards may have to be carried around the outside of the tunnel over the rocks.
4. Its home to the endangered 'Hoodies'
Never heard of the Hooded Plover? They are a small beach dwelling bird that live and breed on Kangaroo Islands beaches and Stokes Bay is home for some of them. Locals are passionate about protecting Hoodies and you may sometimes see flagged off areas where they are nesting. Hooded Plovers lay these tiny, amazingly camouflaged eggs on the beach which makes them really vulnerable, especially to dogs, so keep dogs on a leash always.
5. You will get the best salt and pepper squid of your life at The Rockpool Café
The Rockpool Café is a favourite hang for the locals, not just because its right next to Australia's best beach. Its vibe is cool casual, so you can rock on in with your sandy feet but the food and service is exceptional. Their signature dish is the seafood cone, with all South Australian produce it won't disappoint. The café is licensed and a cool crisp glass of rose goes down perfectly with the view over the ocean on a summers afternoon. Just note opening hours are seasonal depending on school holidays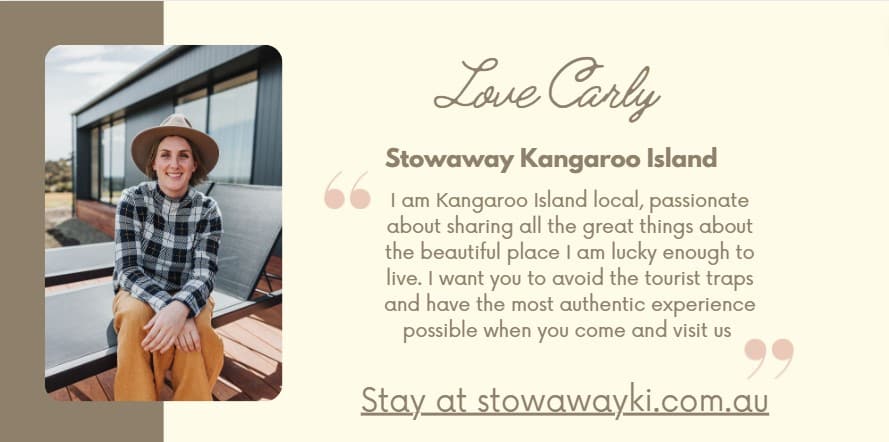 https://stowawayki.com.au/wp-content/uploads/2023/02/Stoks-Bay-snip.jpg
703
1273
Carly Bussenschutt
https://stowawayki.com.au/wp-content/uploads/2018/02/Stowaway-1030x436.png
Carly Bussenschutt
2023-02-07 12:19:47
2023-02-07 12:19:47
5 Reasons to Visit Australia's Best Beach on Kangaroo Island