Kangaroo Island rugged beauty is well known, and what better way to enjoy it than an eco friendly bushwalk (they are also free!) If you are a first time visitor it can be hard to know which walks are suited to your fitness, time schedule and interests. These are walks that I have personally done and enjoyed over the years, and happily recommend to our Stowaway Kangaroo Island guests.
Kangaroo Island Wilderness Trail – 5 Days + 73Km
Now if you are a serious bushwalker and love the idea of a bucket list bushwalking experience then this one is for you. You will traverse cliffs looking out to the Southern Ocean, walk beaches, grasslands and cross rivers (small boat provided!) you will have your hair blown in a million directions and feel more at one with nature than anywhere else in the world. I would suggest an fair level of fitness, it is undulating and varying terrain. You will also need to be fully self sufficient and have appropriate hiking equipment.
The best way to do it is to book a package with Western KI Caravan Park who will transfer you to and from each day and you can be accommodated in one of their on-site cabins. There are also camping areas and facilities on the trail if you want to carry all you gear and do it the old-fashioned way.
The Ravine de Cesoars Hike – 3hrs + 7.4K return
'The Ravine' is my favourite hike for two reasons, its long enough to feel like you have been on a bushwalk but short enough that you don't need to be overly prepared. It also traverses some really interesting country, has spectacular views and ends up at a beautiful remote beach with a cave formation.
Located on the far western end of the Island it is a bit of a drive to get to but well worth the effort.  We have taken our kids on this walk and it is walkable for most fitness levels.
Waterfall Creek Hike  – 2hrs + 4.2 Km return
Or as the locals call it 'Billy Goat Falls'. A quiet secluded walk following a track to Billy Goat Waterfall. The trail winds through the shady trees and gently descends into the valley to Waterfall Creek. Crossing the creek on stepping stones, the walk ends at a lookout with views of the waterfall. Although the waterfall is high, it only flows during winter or after rains.
The walk is in Western River Wilderness Protection Area  and the trail begins at Gate 2, at a small carpark on Colmans Road, which is 9.3km off of the Playford Highway (the dirt road to Cape Borda.)
Platypus Waterholes Walk – 2 Hrs + 4.7Km
Located in Flinders Chase National Park (entry fee required) this is a getle walk through the low scrub and eucalpts to a large waterhole that is known habitat or the elusive platypus. With viewing platforms scattered around the waterholes you can sit quietly and wait to spot the appearance of a platypus. Dawn and dusk are the best times to catch a glimpse of one. Pack a picnic!
The walk begins from the Flinders Chase Visitors Centre. Birdlife, kangaroos, wallabies, geese, echidnas and goannas are regularly seen on this walk.
The Cannery Walk – 1.5hrs + 4Km Return
Located in the picturesque township of American River, we love doing the walk with our kids. Its an easy, meandering walk through the bush, with birds in abundance, and native shrubs and orchids in flowering season. Along the way Glossy-Black Cockatoos can often be seen and heard feeding. At the end of the trail the remains of a fish cannery built in the late 1890's. Walk back along the beach then stop for a coffee at The Deck Café.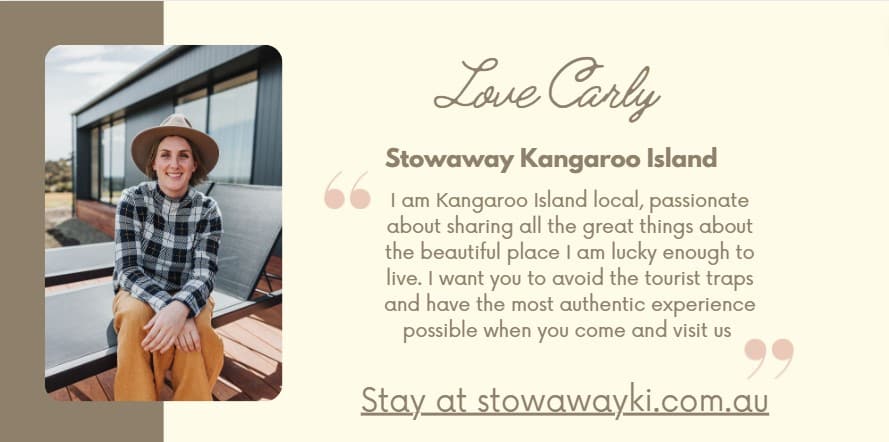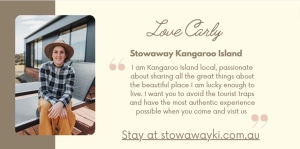 https://stowawayki.com.au/wp-content/uploads/2020/12/Stowaway-KI-252-of-280-scaled.jpg
2560
1707
Carly Bussenschutt
https://stowawayki.com.au/wp-content/uploads/2018/02/Stowaway-1030x436.png
Carly Bussenschutt
2023-06-08 13:48:40
2023-06-08 13:48:40
5 Best Kangaroo Island Bushwalks