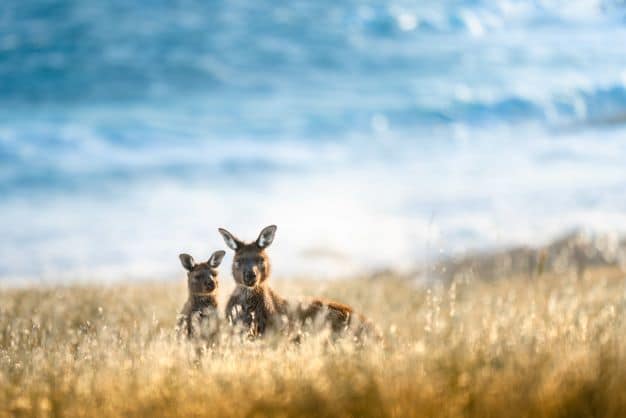 A big reason you are considering visiting Kangaroo Island is for the wildlife. Especially Kangaroos. Why its in the name, it should be easy right? Yes and no…
It all depends on where you go and the time of day. Kangaroos are nocturnal, they come out to feed and do their thing at night which is not overly convenient when you want to be tucked up by the fire in your accommodation when the sun goes down.
Even though technically you need to wait until nightfall to see these gloriously unique marsupials, there are a few places Kangaroos are known to hang out during the day.
Stokes Bay
Not at the actual beach. The viral photos of kangaroos hanging on Australian beaches are a bit misleading! The paddocks surrounding Stokes bay are home to families of kangaroos that like to lounge about in the long grass during the day. You can safely pull off the road and see them in their natural habitat, having a nap a scratch or even a fight. The paddock to the left as you approach Stokes Bay nearly guarantees a sighting.
Flinders Chase National Park
Rich with native habitat Flinders Chase NP is probably where most kangaroos on Kangaroo Island live. As you enter the park there are big grassed flats that are prime for wildlife grazing and you will often see them in the day light hours along with wallabies and Cape Barren Geese.
Parndana Wildlife Park
Now this might seem like cheating, but if you are short on time or really want to feed, pat or interact with a kangaroo this is your best bet. These kangaroos have been rescued as joeys and raised around people so are tame and love a photo opportunity. They live in a big paddock at the park so they are just free ranging as if in the wild, only they will approach you not hop away when they see you.
Nocturnal sightings at your accommodation
Depending on where you are staying, there could be excellent nocturnal viewing opportunities right on your doorstep. Some places even provide special red light torches which provide the best way to observe the wildlife at night with out scaring them away. Check out Stowaway Kangaroo Island if this sounds like you jam. We provide you with the special torch and the property is teeming with kangaroos, wallabies and possums as soon as the sun goes down.

https://stowawayki.com.au/wp-content/uploads/2022/04/Luxury-Kangaroo-Island-Accommodation-Kangaroo.jpg
418
626
Carly Bussenschutt
https://stowawayki.com.au/wp-content/uploads/2018/02/Stowaway-1030x436.png
Carly Bussenschutt
2022-04-13 08:35:59
2023-02-17 21:00:49
Best Places to see a Kangaroo on Kangaroo Island